Send Your Music to Phantom Circuit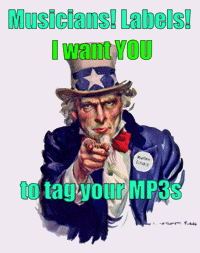 Submissions are welcome
We enthusiastically welcome music submissions from creators and labels who think their music may fit into this very unusual show. It's quite eclectic, so don't fret if you're not sure, just be aware that Phantom Circuit is particularly keen to play music that is evocative and out of the ordinary.
On this page...
How to submit your music: the essential details
Please read this section carefully. If you ignore these very basic standard requirements, your submissions will be ignored. Otherwise, your work will be listened to.
Simply send submissions@phantomcircuit.com a download link to your album/EP. The audio tracks must be MP3 (or AAC/M4a) format and of course they must be correctly tagged to show artists, track titles and album title, in the appropriate fields.
Send only a single download link (URL) for the whole album/EP, not links for each individual track.
Here's an example of a download link: https://example.com/myalbum.zip
Here's another example: https://bandcamp.com/yum.
Do not send audio files as email attachments.
Thanks!
Permission to play
When you send music to Phantom Circuit, you are giving permission for the music to be included in editions of Phantom Circuit over the Internet, radio, podcast or other platforms it may use, with no consequent payment required from you to Phantom Circuit nor from Phantom Circuit to you. When a platform used by the show collects playlist information for their own royalty payment arrangements, Phantom Circuit endeavours to supply this information to assist but has no financial interest or obligation in such arrangements.
Telling you when your music has been included
You are of course invited to listen to every edition, but Phantom Circuit also uses Twitter to mention musicians and labels when their music has been included. If you want to help this happen, feel free to state your Twitter account name when sending in your music.
You can also follow Phantom Circuit on Mixcloud to receive emails when new shows have been posted there.
This site also announces new shows using its own RSS feed.
When music cannot be played
Sometimes it is not possible to include tracks due to lack of time or because the material is not quite right for the show at present. It's disappointing for Phantom Circuit as well as artists and labels when music cannot be included but you will understand that radio shows have to make such choices. Of course, subsequent submissions of music would still be welcome.